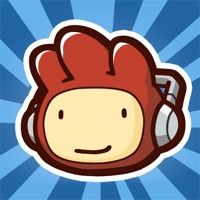 Scribblenauts Remix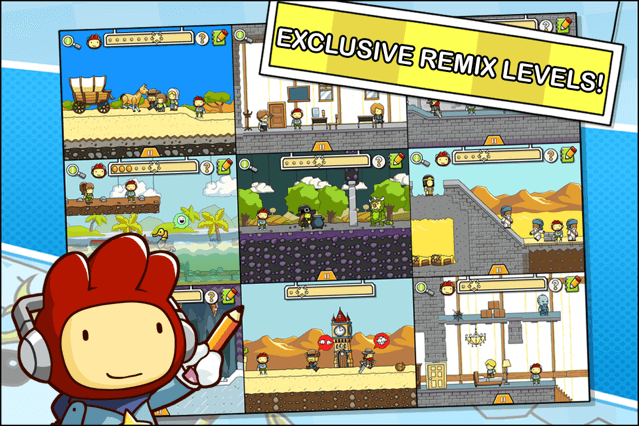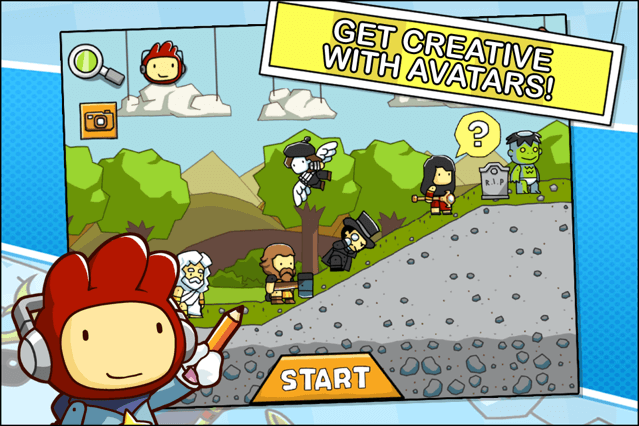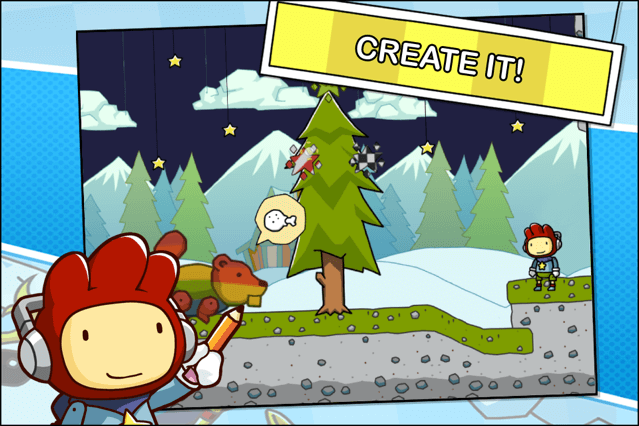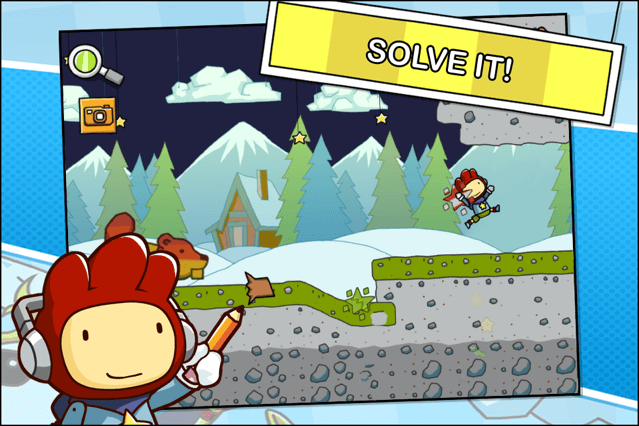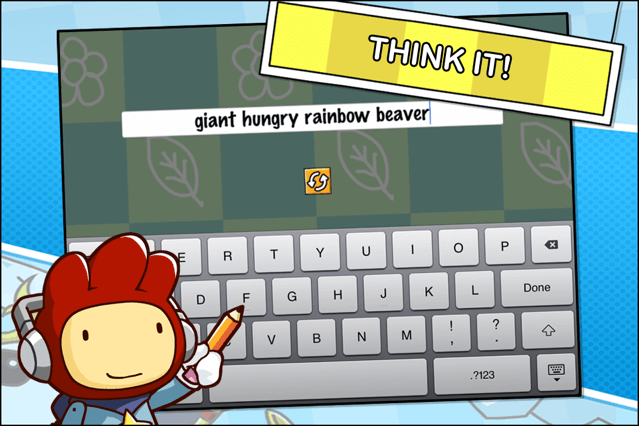 Get The Game
This game's download link redirects to App Store and Google Play, while the purchase link redirects to Amazon. Neither of the links contain malware nor viruses, please feel free to try it out!
Editors' Review
Scribblenauts Remix ©Copyright by FunGameShare, Do not Reproduce.
There are times when an inspiration strikes. how to use it in a game You may try out a game that allows you to use your creativity to its maximum potential. The puzzle game that we will be playing today is called Scribblenauts Remix, and due to the high quality of the game, it has attracted more than 5 million players. In the world of Scribblenauts Remix, your mission is to provide Maxwell with the Starite he needs to make anything he wants, and then use that object to complete each and every challenge. In the innovative puzzle game Scribblenauts Remix, you are given complete freedom to let your imagination run wild. You are free to let your imagination go wild, conjuring up things like a "huge, winged automobile" or a "shy, ice-cold breathing, robotic hippo"! If you are able to think, you are also able to create. This is the ideal game for gamers looking for a fun and lengthy experience that can be replayed multiple times with a variety of outcomes and endless possible answers. It makes no difference if you are eight years old or eighty years old; the only limit is your imagination!
The game Scribblenauts Remix is both an old favorite and an innovative one. To begin, Scribblenauts Remix is a very educational game that features a total of 50 levels, including 40 of the game's most played levels, in which players are able to get the most out of playing the game. If you feel that playing through 50 levels is not enough for you, you can upgrade to a World Pass, which will give you access to all of the current and future world expansions as well as an additional 90 levels. Additionally, if you have previously purchased a World Expansion, you will be automatically upgraded to a World Pass, and all future worlds will now appear in your game for free. Second, Scribblenauts Remix displays a high level of originality. Players can get a new perspective on the game Scribblenaut by taking control of a character that is not the main protagonist. Within the game, there are a wide variety of captivating and unique characters for you to interact with. Test out this new feature, which comes with free lifeguards and God in human form. You can also show your pals how much fun you're having by uploading photographs of the playgrounds you build and the puzzles you solve to social networking sites like Facebook and Twitter. This will provide them with a sneak peek at the game.
In my perspective, Scribblenauts Remix is a game that everyone can pick up and play, despite its relative ease. You begin by going into the playground to make things in order to get this game of imagination going. In addition, you can receive limitless replay value by completing a puzzle numerous times with varied terms in order to push yourself to perform at your peak. Players may use iCloud to seamlessly move between their iPad, iPhone, and iPod touch devices without having to restart the game when playing Scribblenauts Remix. This is made possible by the game's incredibly user-friendly design. In addition, players have the ability to remove any produced objects with the "Shake to Undo" feature by just shaking their Apple iPhone. You can now play Scribblenauts Remix with friends and compare your ranks with each other. You may browse leaderboards, see where you rank among other players, and compare gaming achievements with pals by using Game Center. What are you holding out for exactly? Get your creative juices flowing with Scribblenauts Remix by downloading it today!
Description
►►Scribblenauts Remix now has over 5 million players! Get it now!.◄◄
►►If you purchased the World Pass or Avatars and can't find them after the update, just use the "Restore DLC" button in Options to get them back - you will NOT be charged for them again! ◄◄
THINK IT! CREATE IT! SOLVE IT! The award-winning, best-selling video game is now available for the iPhone, iPod touch and iPad.
Help Maxwell acquire the Starite by creating any object, bringing it to life and using it to solve each challenge.
Let your imagination run wild in this groundbreaking puzzle game. Summon to life a 'colossal, winged car' or a 'shy, frost-breathing, robotic hippopotamus'! If you can think it, you can create it.
It's the perfect game for the casual player looking for fun and extensive replay with unlimited solutions and different outcomes. Or, the Scribblenauts fan wanting the complete Maxwell experience.
Whether you're 8 or 80, the only limit is your imagination!
How To Play
CLASSIC GAMEPLAY
50 levels to play! Includes 40 of the most popular levels from Scribblenauts and Super Scribblenauts plus 10 original levels exclusive to Remix.
WORLD PASS
Purchase a World Pass and receive all current and future world expansions - 90 extra levels and counting! If you previously purchased a world expansion, you're automatically upgraded to a World Pass and all future worlds will now automatically appear in your game for free.
PLAYABLE AVATARS
Re-live Scribblenauts by playing as a different character from in the game. Try out the feature with the free Lifeguard and God avatars!
SCRIBBLE PICS
Post images of your playground creations and puzzle solutions to Facebook and Twitter and share them with your friends!
SCRIBBLE SPEAK – EXCLUSIVELY FOR SIRI ENABLED DEVICES
Use the keyboard microphone icon to create objects using only your voice!
UNLIMITED FUN
Enter the Playground to create objects to your heart's content, playing and interacting in a true sandbox!
GOLD CROWNING LEVELS
Engage in endless replayability (and earn a Gold Crown for your troubles!) by solving a puzzle multiple times using different words.
PLAY ON MULTIPLE DEVICES
Use iCloud to seamlessly switch between the iPad, iPhone and iPod touch without ever having to restart your game.
INNOVATIVE USER INTERFACE
Use the "shake to undo" function to remove created objects simply by shaking your Apple device.
CREATE AND SHARE
Use Game Center to check out the leaderboard to see how your score ranks and to compare game achievements with friends. You can also post game statistics to your Facebook and Twitter profiles.
GIFT THE APP
Give the gift of Maxwell to your friends and family!
Create what you want and see what happens!
Comment
You may like it.