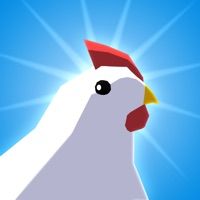 Egg, Inc.
Platform :
Size : 139.7 M
Date : Jan 18, 2022
Version : 1.22.5
Devoloper : Auxbrain, Inc.
Tags : Simulation Casual 3D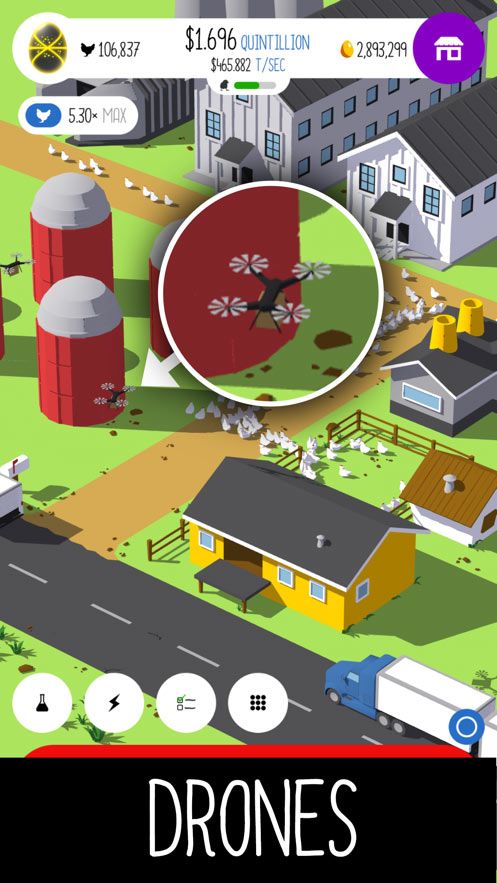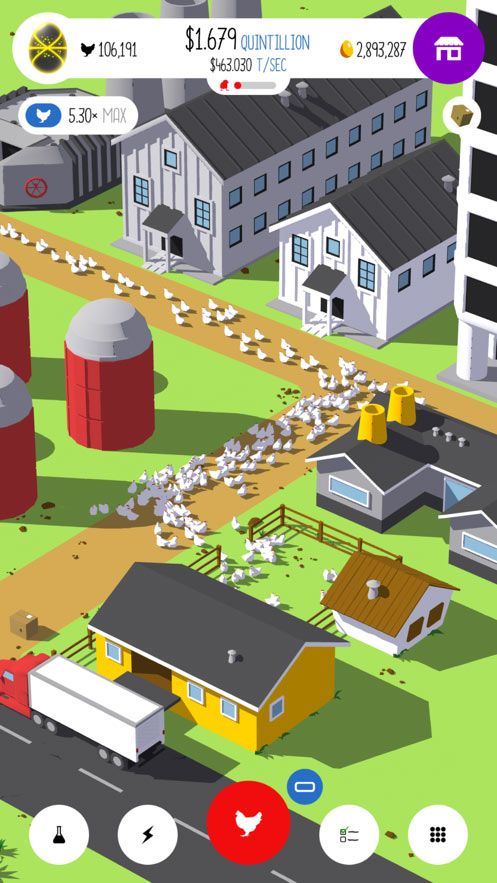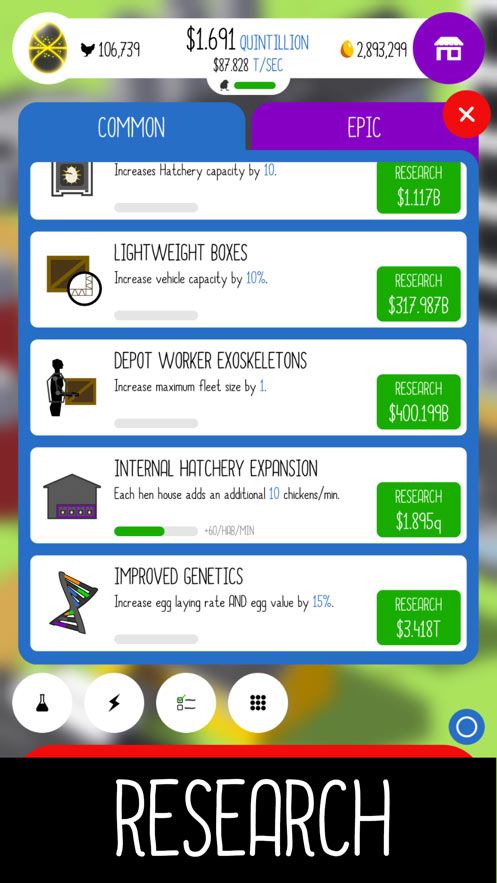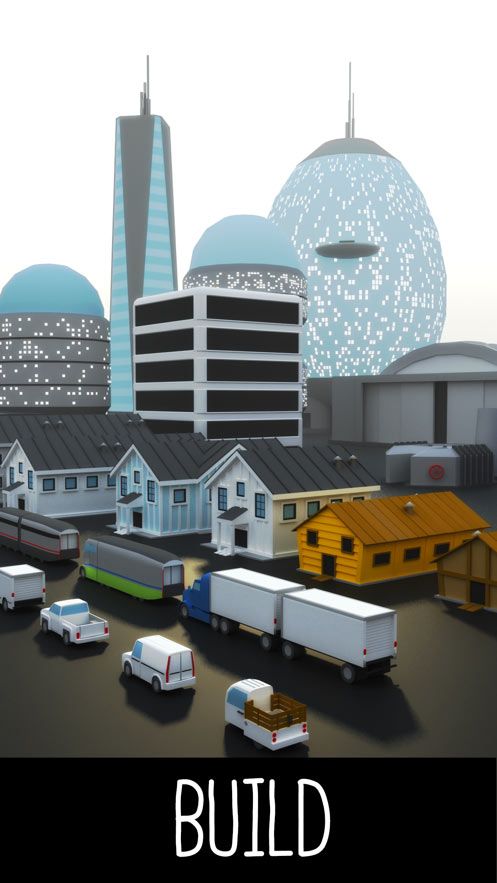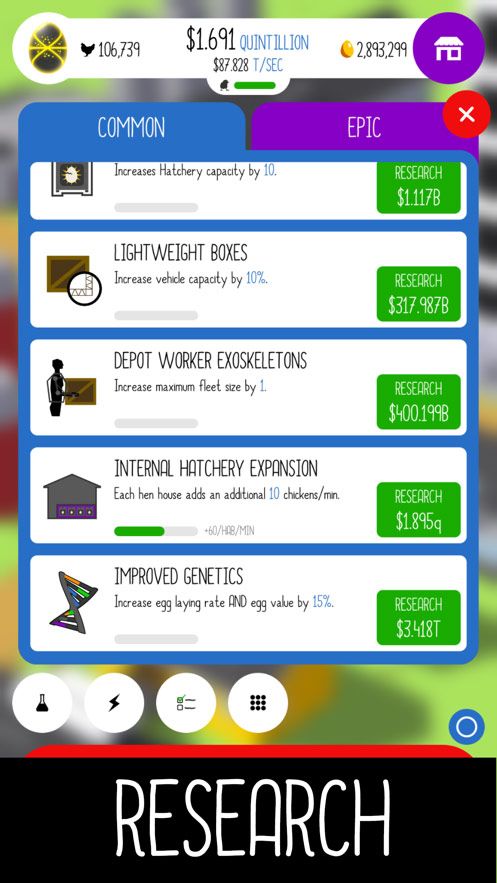 Get The Game
This game's download link redirects to App Store and Google Play, while the purchase link redirects to Amazon. Neither of the links contain malware nor viruses, please feel free to try it out!
Editors' Review
Egg, Inc. ©Copyright by FunGameShare, Do not Reproduce.
Egg, Inc. is a simulation game published by Auxbrain Inc, an American studio, who devotes itself to producing high-quality mobile games. At the moment, the game could be downloaded on iOS AppStore and Google Play. Released in 2016, the game has achieved to accumulate millions of players, and now it is still gaining more and more popularity around the world.
Egg, Inc. is set in a future, in which eggs could unlock the secrets of the universe. Players need to produce as many eggs as possible, so that they can build their own farm and achieve specific goals in the game. The procedures of the game are as follows: first, you hatch chickens; second, you build hen houses; third, you hire drivers to ship the eggs; forth, you do researches to improve your efficiency; and finally, you launch space expeditions! With all those procedures, you are able to build the most advanced egg farm in the world.
What make Egg, Inc. different from the other simulation games is its simple operation and its laid-back feelings. In the game, the only operation is to press buttons. Once the button is pressed, chickens are released and money is made. What you need to do is to think about strategy to improve efficiency. What's more, the laid-back style of the game is loved by millions of players. The elements such as eggs, chickens, hens and buildings are designed to be simple and cute, and the 3D graphics are both colorful and comfortable. In the modern time, people are likely to be overwhelmed by their works. And the simple game with high-quality graphics could be one of their best choices to relax themselves.
Pros and Cons
Pros
-It's a creative idea to involve chicken and somehow intertwine them with going to space and finding artifacts of lost civilizations.
-Unlike other idle games in which milestones are getting harder and harder after a few days of play, this game keeps you coming back as you always feel like you're making progress.
-The idea that you breed chickens to a mass scale to make gazillions or dollars is amazing. The game makes it possible for everyone to enjoy being a billionaire.
-Many games force you to watch ads, or force you to buy their subscription, or lock the next level until you buy something. Egg Inc. doesn't do any of that, while providing a funny casual game.
-It teaches you some basics of how to start an entrepreneurship style business where they throw mildly challenging tasks. It's a great game for family and kids to play.
Cons
-Some players are getting angry because the developer recently decided to make certain power ups cost more money and last for a shorter period of time.
Game Review
For those game fans who are willing to try new games, or new comers who are looking for some casual games to kill time, Egg, Inc. could both fulfill your need. You will find it a considerably novel game as it combines the concept of making money by feeding chickens with a simulation game. And it's easy to play even for new comers, because operations are designed to be simple. Most importantly, you don't have to spend any money, as the game will not force you to buy subscriptions like other games do, and you will see progress every time you come back to the game.
Description
In the near future, people perceive that the secret of the universe is hidden in the eggs. So the price and value of eggs is expensive, the major chicken farmers are getting rich, and you decide to make a killing while the heat is on, selling as many eggs as possible.
You have to hatch chicks, build coops, hire drivers to transport the eggs, and trade with the institute to build the most advanced chicken farm in the world.
The game uses many elements from simulation games, giving it a unique feel and gameplay style. You will see a live chicken farm with chicks running all over the place that will quickly put you in the middle of it.
How To Play
Click to make hens grow, use the eggs laid to earn money, and improve farm facilities. In the process of development, the technology of the farm can be upgraded, so that both the efficiency of hens laying eggs, the value of eggs and the recovery time of chickens' growth can be developed in the direction of obtaining greater benefits. In the end, unlock the more rare egg species and complete the ultimate goal of the game.
Comment
You may like it.