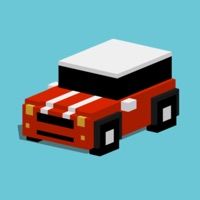 Smashy Road: Wanted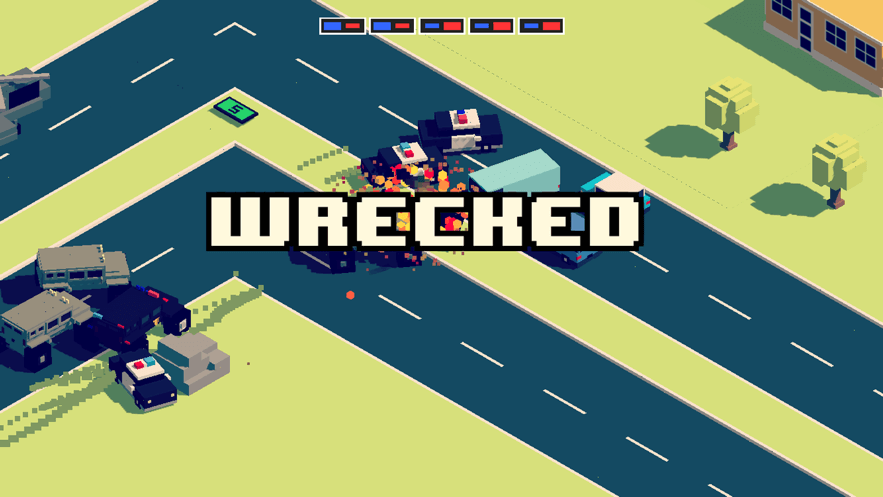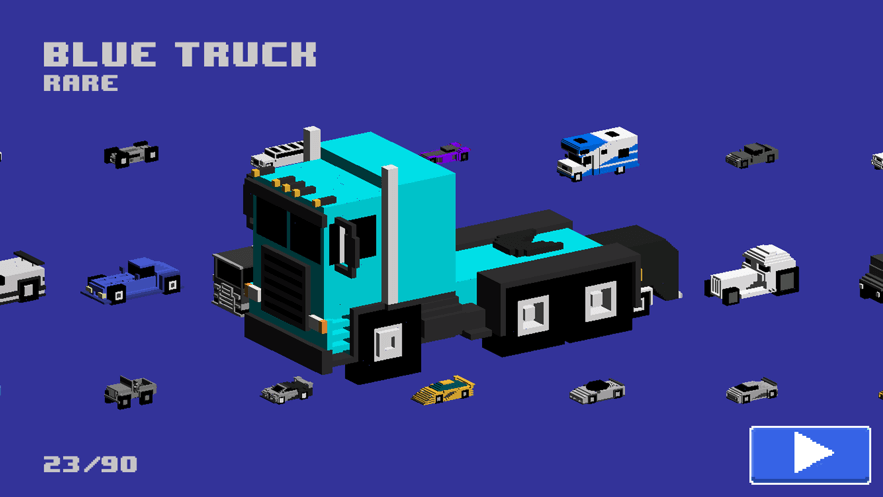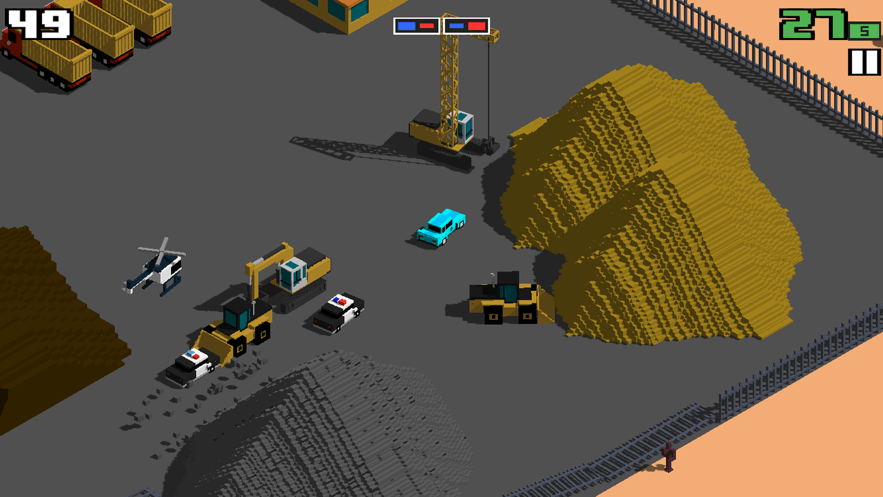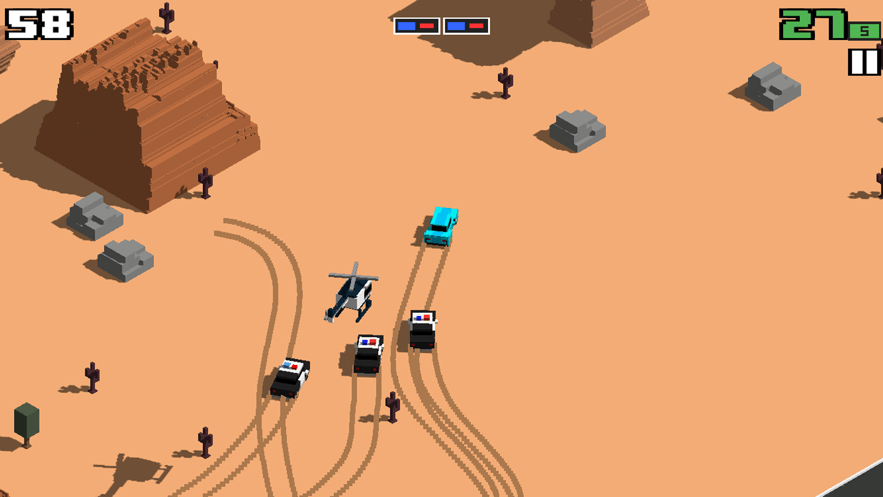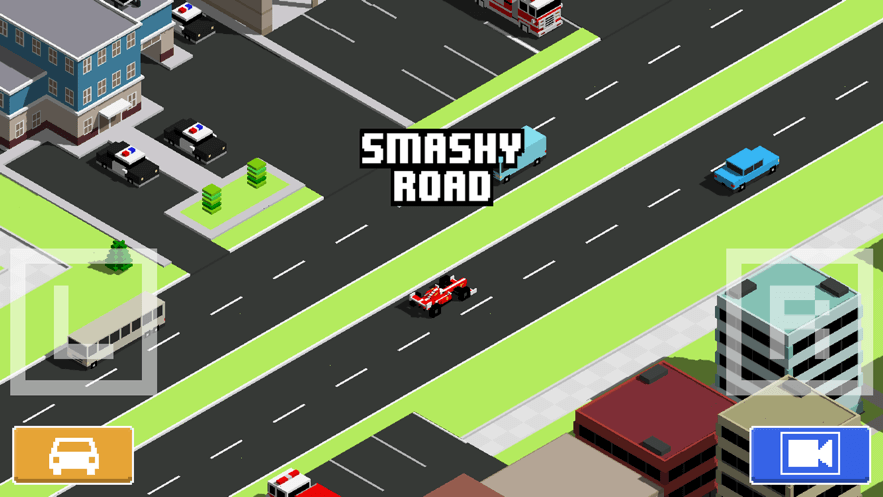 Get The Game
This game's download link redirects to App Store and Google Play, while the purchase link redirects to Amazon. Neither of the links contain malware nor viruses, please feel free to try it out!
Editors' Review
Smashy Road: Wanted ©Copyright by FunGameShare, Do not Reproduce.
Smashy Road: Wanted is definitely an engaging yet thrilling video game that can give you tons of fun.
First of all, the graphic quality of this game is very stunning, and the cartoon design always has a kind of freshness and is really easy on your eyes. What's more, the sound effects are also very attractive and griping, and it simulates the real sounds of car crashes in real life. But I guess not all players like to hear some tense music on the run, you can also choose to mute it to concentrate on your stressful escape journey. I personally prefer to turn on the sound so that I can get a more immersive game experience. And there are a variety of maps out there for you to choose from. Different maps mean that you will have different exciting adventures, and you may be in a big city or in a desert to avoid the chasing of the police. I can't say that this game is absolutely ad-free, but this game won't force users to watch a lot of in-game ads for revenue, and watching ads can earn you some in-game currency that helps you get some better cars.
In the game, you are a prisoner at large, and what your mission in this game is to evade the chasing of the police, otherwise you could be faced up with prison life again. You can choose the car you want to use, such as a big truck. Different cars have different features and advantages and disadvantages. Among all kinds of cars, a big truck may not be easy for you to escape easily, because it may be more likely to hit obstacles and make you accidentally stop halfway, but it is also not that easy to break down when you hit something.
The gameplay of Smashy Road: Wanted is very simple and easy to pick up, because you don't need to master a lot of skills, and you just need to control your fleeing vehicle and avoid being caught by the police vehicles following you. Your vehicle will automatically drive ahead, so all you need to do is click on the left or right side of the screen to control the vehicle to move towards the right direction and steer away from the obstacles that stand in the way such as other cars or passers-by. It's worth mentioning that the control is quite responsive, once you tap on the car you would move forward. But the only thing that slightly lets me down is that sometimes it is hard for me to take turns, and I guess that is something players need to practice more.
In the game you can hit and run and you won't face any punishment because your goal is to survive and avoid the police, so you won't consider too much even if you hit a passer-by, but you can't bring the the escape mindset to real life, which I mean that you have to obey the traffic rules in reality.
In the game, you can hit the vehicles on the road and even pedestrians at will, and of course, if you hit them, your car will stop automatically, and your chances of being caught by the police will also be greatly increased. Then maybe you are worried that if your car hits a building or other obstacle, it means the game is over. You won't, but your vehicle will be damaged. As long as your damage is not very high, you are still safe to drive forward. As you level up, more and more police cars will be sent out to catch. In the later stage, there will be tanks and even helicopters sent by the police to detain you. Because if you complete a lot of levels, then you you will be identified as a very dangerous criminal, and you will receive more attention from the police.
When you level up, you will get some rewards, for example, you will have more choices of car models. All in all, this is a wonderful and exciting game, you can have a lot of fun in this game, you must download and play it.
Description
You are WANTED! Take your driving to new heights! Master and unlock all 90 vehicles. Race through the desert, grasslands and the city or encounter SECRET areas with great rewards! Escape the POLICE, the SWAT, the ARMY JEEPS and the TANKS! How long can you last?
Smash the road and see if you can beat your friends highscore in the online leaderboards!
Comment
You may like it.