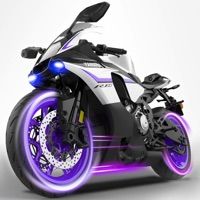 Speed Moto Dash:Real Simulator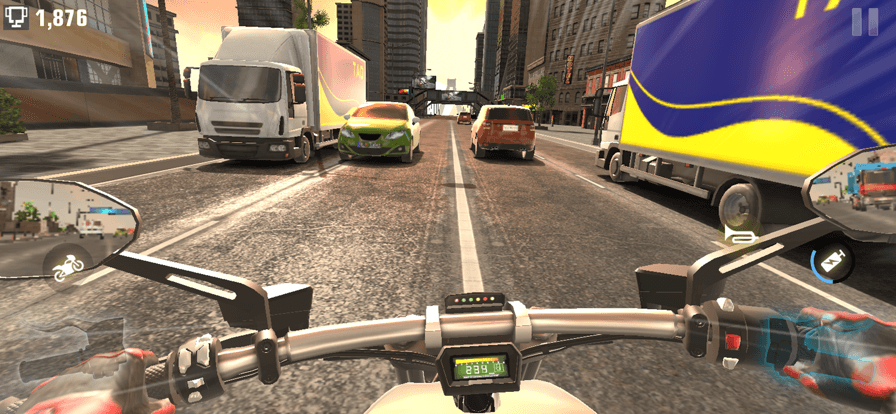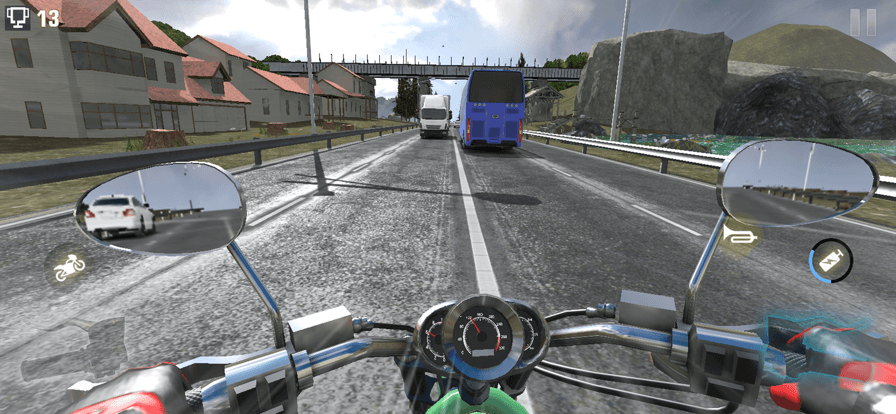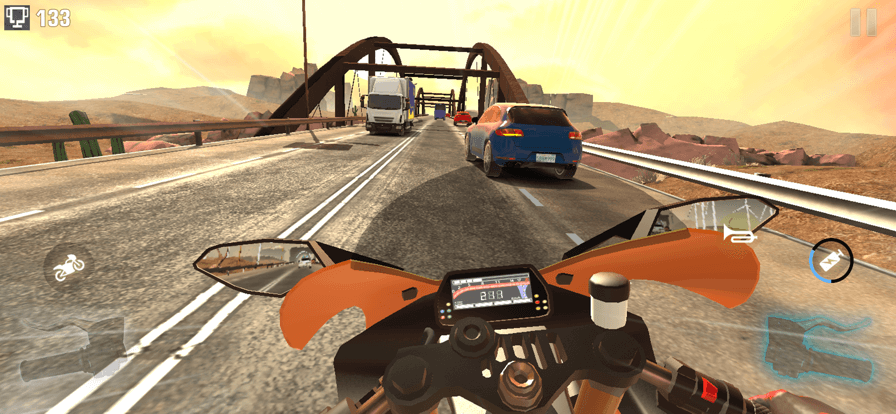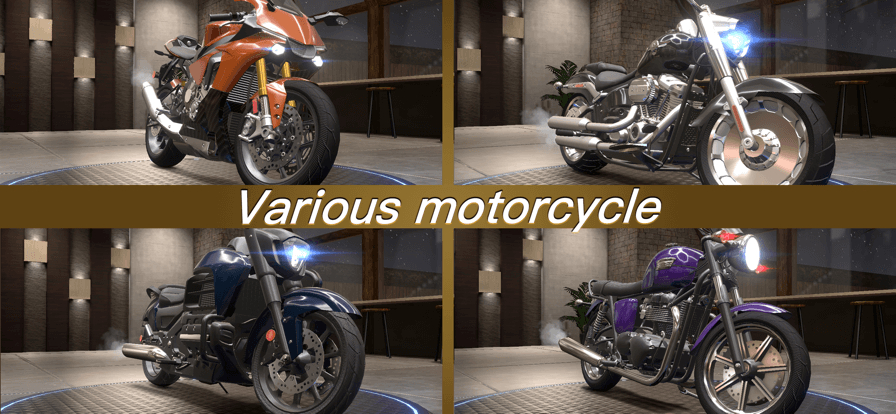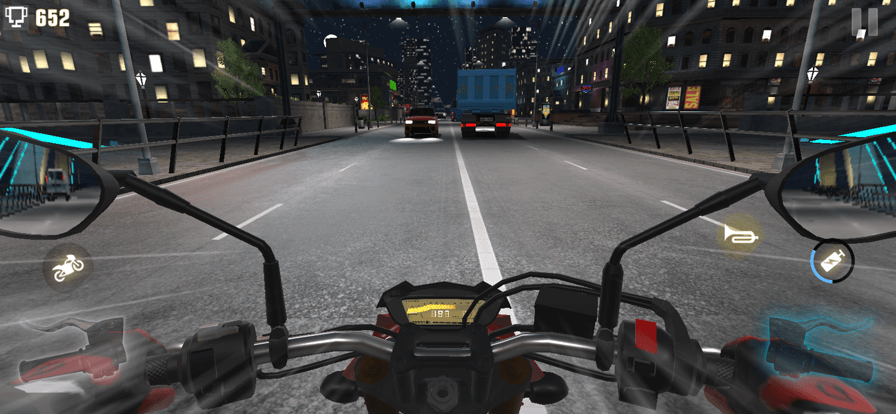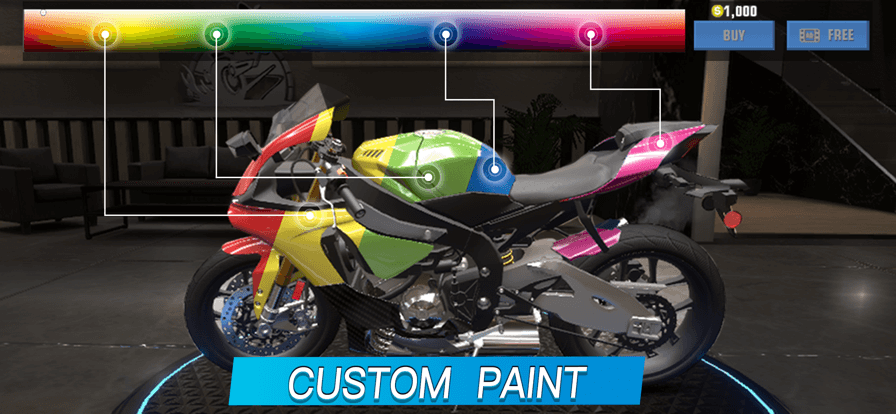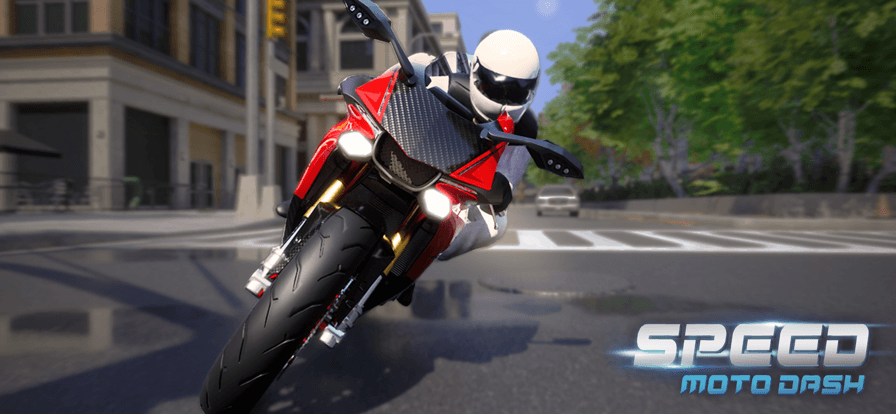 Get The Game
This game's download link redirects to App Store and Google Play, while the purchase link redirects to Amazon. Neither of the links contain malware nor viruses, please feel free to try it out!
Editors' Review
Speed Moto Dash:Real Simulator ©Copyright by FunGameShare, Do not Reproduce.
I've played a lot of racing games, that's a fact, and it's hard to argue with me. In my way of thinking, racing games are the externalized power of speed. You can use speed as your weapon, but the basic principle is that the speed of you and your vehicle is your own pursuit of the limit, but you should not use this speed as something to bully others. I think racing games are about fighting against yourself, making your imaginary self a goal to surpass, and at the same time, taking that goal and using your speed to subdue it. I love this kind of game. Game manufacturers seem to understand the psychology of people, so they are constantly coming up with new four-wheeled vehicles, including sports cars, supercars, sports cars to lure players. Not so Speed Moto Dash Real Simulator, which, as its name suggests, is all about motorcycles. I'm a motorcyclist, how do I prove it? I have always believed that "a car is covered with steel, while a motorcycle is covered with steel. This is to illustrate the bravery of motorcyclists, who are willing to give up their own safety or life in pursuit of speed.
The Speed Moto Dash Real Simulator based on Unreal Engine 4 is a super realistic experience for players. If you become a fan of this game, you will be moved by its beauty. Unreal Engine 4 is the most powerful and advanced 3D engine in the gaming world, and it can support some changes and transformations. It gives the player the best look and feel, so that the player feels as if they are actually in the game world. The Speed Moto Dash Real Simulator runs on your smartphone and you can drive a motorsport motorcycle on a number of tracks. Of course, it's not enough to just drive the bike across the finish line, you also need to do some stunts to show off your strength. Professional technical moves may be the preserve of the few in the world you live in. They require constant practice and endurance. I think motorcyclists are much more valuable than car racers, because the training intensity of motorcyclists is much harder than the latter. If you want to complete a stunt, you need to pay a lot of time, life, effort, sweat. But you can do cool motorcycle stunts with ease in the Speed Moto Dash Real Simulator. It's very self-fulfilling to do it, I think, and I'm not encouraging anyone to abandon the essence of motorcycle racing for something unrealistic. But these professional motorcycle moves do show the skills of a motorcyclist, so well done Speed Moto Dash Real Simulator, which is exactly what a Real motorcycle race should be.
In fact, The Speed Moto Dash Real Simulator is more than just a Real track. In this game, the roads are provided with exactly the same conditions as in Real life. So watch out for traffic as you drive your custom motorcycle in the Speed Moto Dash Real Simulator. It's not just the motorbike you're driving that you enjoy, it's the endless road and the buses and trucks and cars that are driving at breakneck speeds. I think the Speed Moto Dash Real Simulator is very good because of these obstacles, I mean, cars, they will change lanes, Speed up or slow down to make your driving difficult, if you accidentally expose yourself in their path, they will hit you mercilessly. That puts you and your custom motorcycle in danger, and I don't think this is a mistake for Speed Moto Dash Real Simulator players to make.
Description
Based on Unreal Engine Four --the most powerful and advanced 3D engine, Speed Moto Dash will bring you amazing real racing experience and awesome graphics.
Along with Speed Moto Dash, we're ready to surprise you with loads of cool realistic motorcycles. Now you can drive, drift and customize a racing sports motorcycle just in your smartphone ! Here is a life-like vehicle simulator game for you!Whether boys or girls, kids or majors, you can enjoy the fun of driving a motorcycle!
Get behind the wheel and start your lessons in the most realistic driving simulator around! This is a game that will not only test your skills in controlling the motorcycle but also demand full attention to traffic rules. After all, it is not only the long road waiting for you, but also the buses, trucks, and cars that travel with you!
How To Play
Beautiful 3D modern graphics.
The ultimate speed experience comparable to formula racing and rally racing.
100% Free to play
Controls: Buttons, Wheel, Tilt & MFi Game Controller Support
First person camera
Various racing scenarios, weather system, and racing tracks to choose from.
Realistic driving simulator system, accurate simulation of real motorcycle driving experience.
Authentic motorcycle accident, and motorcycle damage physics effects.
Unlimited customization: Customize your motorcycles with paint,decal,tires, rims.
You can enjoy the game without network service! You can play without WIFI!
The Coolest motorcycle collection.
Become a motorcycle racer,ride your own classic, modern or luxury motorcycle, drive in cockpit view through the endless traffic and realistic environment. Become a furious racer, hurtle on the asphalt road in the city, country road, desert highway ,wherever you want! Overtake traffics to earn coins as much as possible, and unlock more brand new fancy motorcycles!
Get your motorcycle ready and start your engine! With the amazing real-like racing motorcycle simulator, feel free to immerse yourself in the pleasant of speeding!
Comment
You may like it.