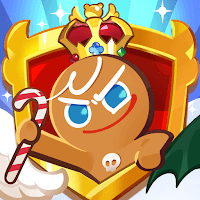 Cookie Run: Kingdom - Kingdom Builder & Battle RPG
Platform :
Size : 1 G
Date : Jan 24, 2022
Version : 2.6.201
Devoloper : Devsisters Corporation
Tags : Battle RPG Role Playing Cookie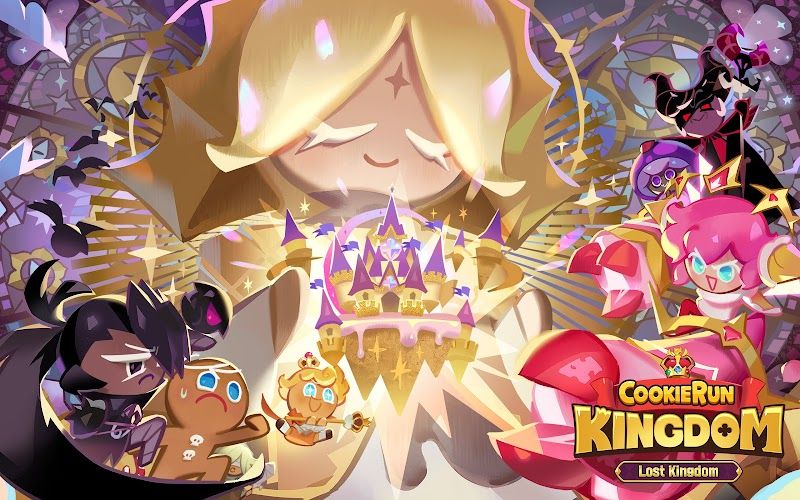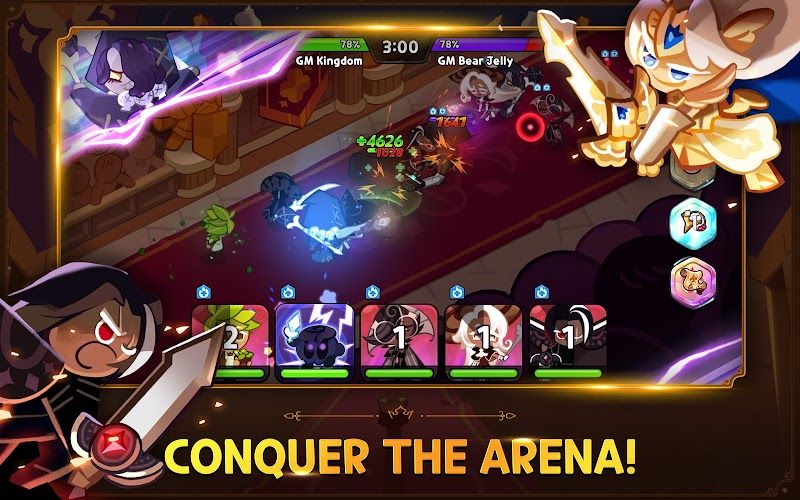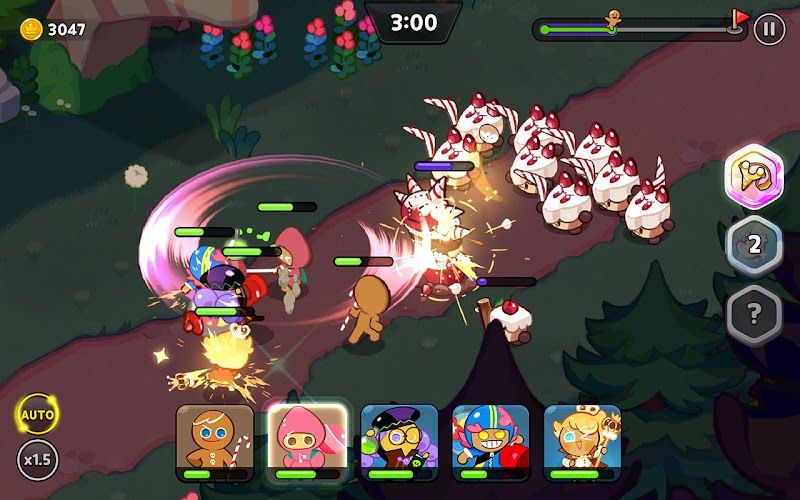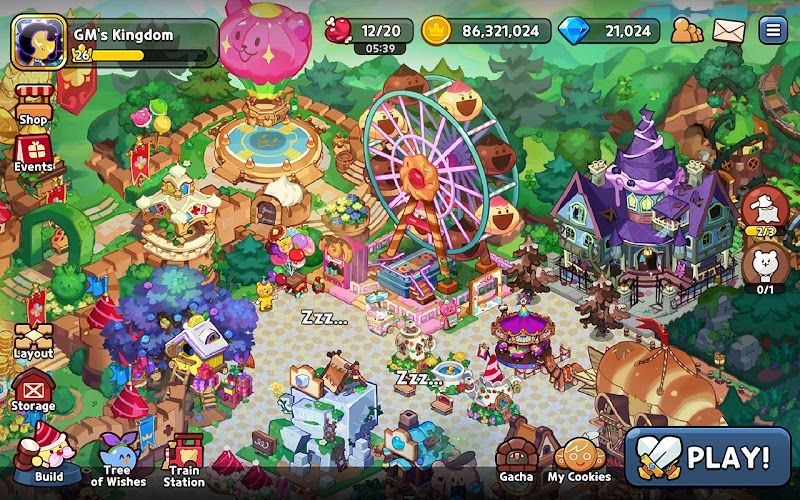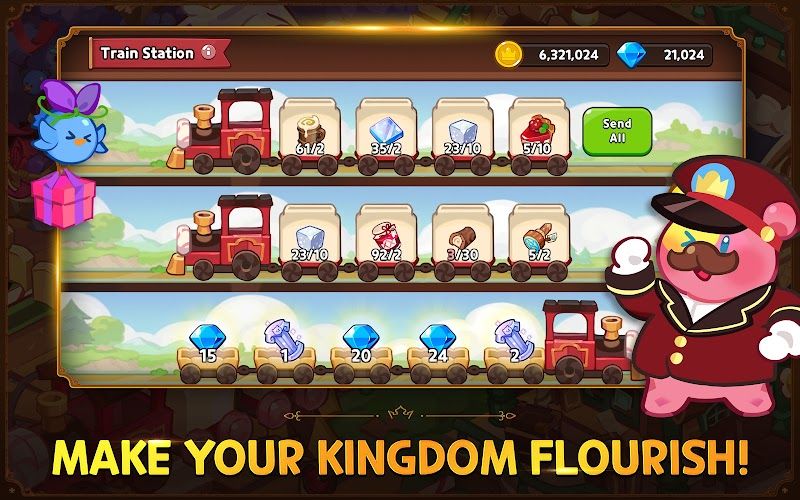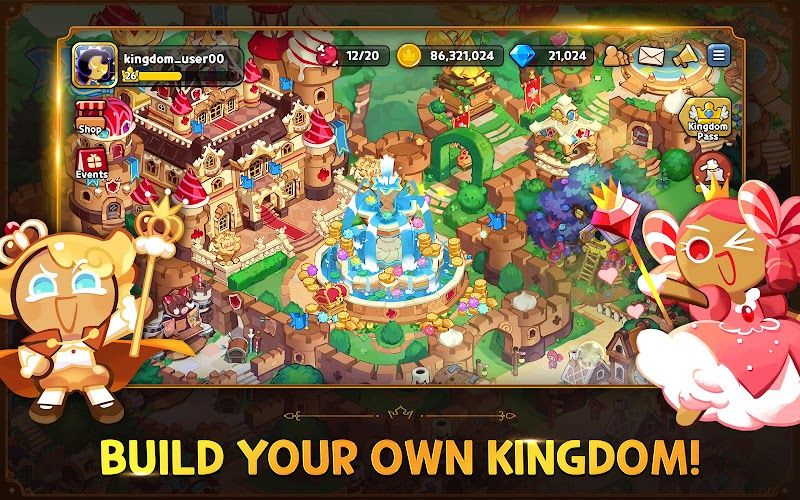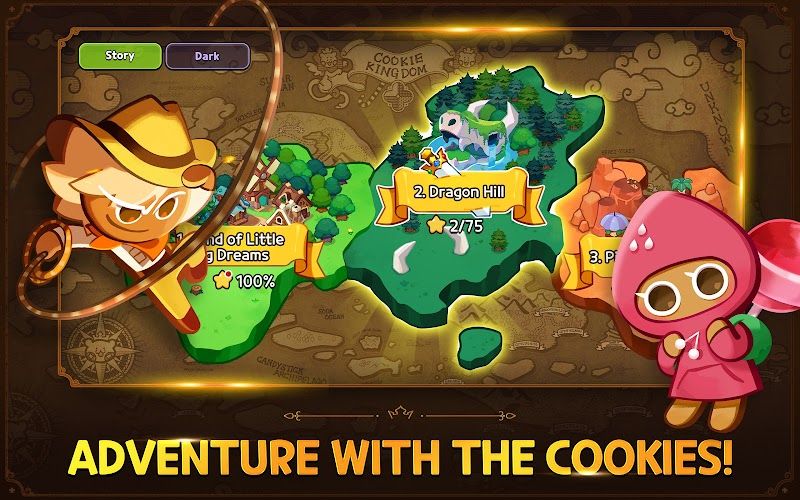 Get The Game
This game's download link redirects to App Store and Google Play, while the purchase link redirects to Amazon. Neither of the links contain malware nor viruses, please feel free to try it out!
Editors' Review
Cookie Run: Kingdom - Kingdom Builder & Battle RPG ©Copyright by FunGameShare, Do not Reproduce.
Do you like the cookie man? Do you like cute, animated cartoon characters as the game's main character? This is one of my favorite role-playing games called Cookie Run: Kingdom. Devsisters developed the game.
Cookie Run: Kingdom is a social themed cartoon RPG game, the first social group game in the Cookie Man series, launched worldwide in 2021. Love Cookie Man series of friends to click download, with your friends to revive the Kingdom of Cookie Man !
As the game's protagonist, you only need to successfully escape the witch oven cookies came to the place, turned out to be the archaic revival of the kingdom! Go with the Cookie to find the lost ancient hero Cookie and the Forgotten Story! In addition to running a variety of gingerbread man cute cookies, joining the original gingerbread man kingdom cookies, take the first glimpse of their unique charm!
Custard, the self-proclaimed heir to the royal family, the fortune cookie that wrote the story of the Cookie into a song, the kingdom knight Madeleine Cookie, the Kingdom Wizard Espresso Cookie, and the Gorgeous Gunslinger Rye Cookie! In addition, the sinister forces of the dark sorceress biscuits, liquor ice biscuits and poisonous mushrooms biscuits and other new biscuits will also be in the Gingerbread Kingdom debut!
There are more than 200 exciting levels in the game; the enemy will be a net, towards a higher level! Aspires to become the legendary dragon, the small-angle insect, the fierce, terrible cake monster, but also has each kind of lovable monster to wait for you to challenge! Strategic and casual combat play.
Form the perfect fighting team with eight types of fighting styles! A light press can release the effect of skills, easy to enjoy the incomparable pleasure of fighting! In addition, you can also create a warm and lovely cookie kingdom. Wizard cookies research magic room can drink and talk about the bubble drink cookies store, with various features to build your Cookie Kingdom, Open Cookie Life! Fight the evil dessert monster and create a happy kingdom! Team up with friends in Guild Wars! Fight with other guild members and defeat new opponents. Fight a mighty enemy and rise together. Earn Soul Stones, guild upgrade items, Guild treasure and more!
You can set up the best cookie team; this is too cute to beat! Fight online with friends in the New Guild Battle System! In a combat simulator, you can strategically select a cookie to defeat cake monsters based on Cookie's particular skill and command your team and release their skill with just a few clicks. With PVP RPG Combat Mode, Get Your Team face-to-face with competitor Cookie's team to climb the leaderboard. With the epic battle animation of the fast-paced combat RPG, lead your soldiers to victory!
Overall, with the lovely style of Adventure Hand Tour, the game players can explore this magical world, and NPC Interactive play, and tiny monsters to fight, but also can build a variety of buildings on the ground, fun and interesting! Free and open style game design concept, cartoon style fun hand tour, game content diversity, a variety of game content rich and colorful, give you different excellent. The game's setting is very clever, with various game modes, many game levels, Lovely Gingerbread man how to reach the finish line.
Gingerbread lets you work with ginger brave and some well-known cookie friends! Build teams and work with new and familiar faces. Fight in Sweet Fantasy Adventure RPG to uncover the kingdom's past story and overcome the darkness between you and the domain's founding. Enjoy Creative Kingdom builder and idle RPG games and become the hero of the Cookie Kingdom.
Description
Build your dream Cookie Kingdom and reclaim the land lost against the evil that lingers in the shadows. Fresh out of the oven and from the Cookie Run: OvenBreak creators comes Cookie Run: Kingdom! Build a delectable Kingdom while battling against evil dessert monsters!

Team up with friends in Guild Battles! Fight alongside other Guild Members and defeat new rivals. Battle against powerful enemies to level up together. Earn soul stones, guild level up items, guild treasures, and more!

A heroic RPG story that has you teaming up with GingerBrave and some recognizable Cookie friends! Build your team and fight alongside some new and some familiar faces. Battle together in a sweet fantasy adventure RPG to uncover the story of the Kingdom's past and defeat the darkness that stands between you and building your Kingdom. Enjoy a creative kingdom builder and idle RPG game to become the hero of the Cookie Kingdom.

This kingdom builder challenges you to rebuild overgrown ruins and customize your Kingdom with unique decorations and exciting buildings. Town building is easy, just collect resources for your Kingdom and craft special tools or delicious treats! Decorate your kingdom to your heart's content in a Cookie Hero RPG.

Fight in an epic battle RPG simulator. Unlock new fighting levels and discover secrets of the Cookie universe. Battle against others on the PVP RPG leaderboard. Tap into each Cookie's unique skills and unleash the perfect balance of power!

Download Cookie Run: Kingdom today and start building your kingdom!
How To Play
BUILD & DESIGN THE ULTIMATE COOKIE KINGDOM!
• A town building game that you can customize and decorate to perfection
• Build a Cookie Empire with a magic laboratory for Wizard Cookie or construct a classy juice bar for Sparkling Cookie!
• A kingdom maker that has you building unique decorations, parks, wood shops, jelly factories, and more!
• Adventure RPG and kingdom builder that has you gathering resources from buildings to expand your Kingdom and fix destroyed buildings to level up

BATTLE YOUR WAY TO VICTORY
• Single player RPG game where you assemble the best Cookie team that is just too sweet to beat!
• Fight online with friends in the new Guild Battle system!
• A fighting simulator where you strategically choose Cookies based on their special skills to defeat Cake Monsters
• Command your squad and unleash their skills with just a few taps
• PVP RPG combat that has your team face off against rival Cookie teams to climb the leaderboard
• A fast-paced fighting RPG with epic combat animations where you lead your warriors to victory!

COLLECT COOKIE FRIENDS & COOKIE TOPPINGS
• Team up with familiar Cookies to explore in the ultimate Kingdom builder experience
• Unlock brand new Cookie characters through gatcha Cookie Cutters
• A kingdom game where you can complete daily quests to earn power boosts for your Cookies
• Collect rare Cookie Toppings to enhance your Cookie's special powers!

UNLOCK SECRETS OF THE COOKIE RUN UNIVERSE
• Adventure RPG story where you play through more than 200 story levels!
• Uncover the untold story of the Kingdom's and fallen heroes' past
• An idle RPG where you restore glory back to the Kingdom
Comment
You may like it.