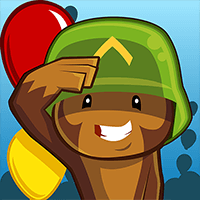 Bloons TD 5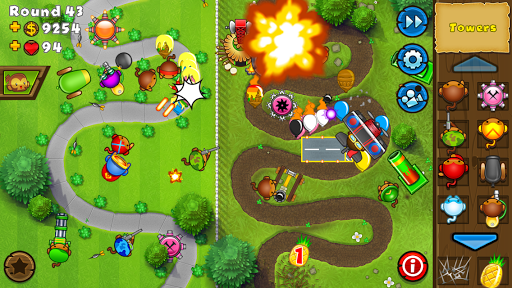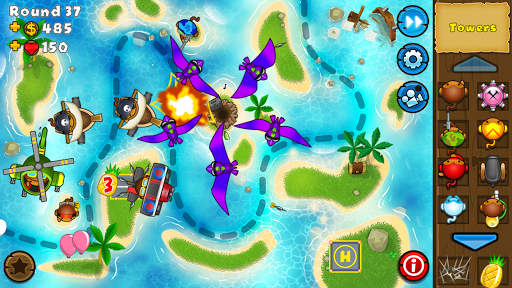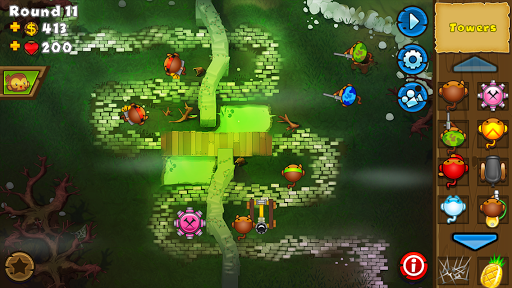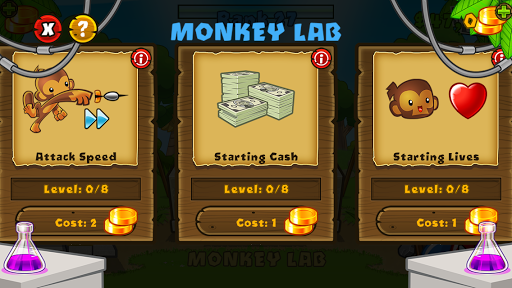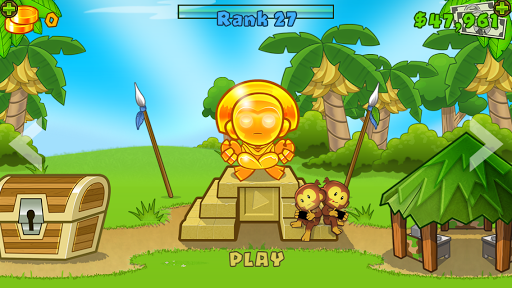 Get The Game
This game's download link redirects to App Store and Google Play, while the purchase link redirects to Amazon. Neither of the links contain malware nor viruses, please feel free to try it out!
Editors' Review
Bloons TD 5 ©Copyright by FunGameShare, Do not Reproduce.
If I have one thing to say about tower defense games, I think I would say "Tower defense games are a perfect example of human intelligence." Why? If you think about it, when you're immersed in a mobile game or a PC game, what qualities are brought out in you? For example, when you play a game similar to an FPS, your reflexes, agility, and information processing abilities are greatly improved, or your character would die. Or if you're playing a strategy game, you should look at the big picture and try to make the best use of your units. But, I wonder if you get the feeling that, in tower defense games, your intelligence is being used? I don't know about you guys, but I do know that PLAYING Bloons TD 5 made me feel smarter. I don't lie to you. I never lie.I'd like to repeat that playing Bloons TD 5 has exercised my intelligence, which in turn has manifested itself in other areas of my life.
This is a game that is easy to manipulate, but requires a lot of hard work to accomplish strategic goals. Bloons TD 5 is a fun tower defense game that can be played on the iPad. Of course, you can also run the game on an iPad Mini. I think that's how much a game company cares about its players, and Bloons TD 5 shows that. Do you have a situation like this? It's a game you can play on your phone, but if you switch devices, your enjoyment of it decreases. This is due to device incompatibilities such as stutters, flashbacks, black screens, or the game itself being poorly optimized. For Bloons TD 5, I'd like to give it a super five star rating because the game can be played on any device, large or small. Bloons TD 5 has none of the problems I mentioned above, so I love it, and I love the perfect full-screen UI, which is simply an amazing creation.
This game, Bloons TD 5, is fun to play. You simply tap the screen, the level map, with one finger to place towers and use them to resist enemy attacks. It's a crazy game that can go on for hours to hours, and I promise you, once you get a taste of it, you won't be able to help yourself to the Bloons TD 5.Of course, just like any tower defense game, your strategy and tactics are important to winning the game, but they're not the whole story. You also need to pay attention to the ability of your tower. Bloons TD 5 allows for professional building upgrades, where you can upgrade your towers in the versatile Monkey Lab, so that your combat effectiveness can be significantly improved. Leveling up isn't difficult, but it takes persistence to defeat enemies. You can also collect things by completing Bloons TD 5 for your characters so that you can have enough resources to upgrade your towers.
I don't know how you feel about Bloons TD 5, but I do know that I love tower defense, and it's that love me, love my dog spirit that makes me feel strongly about Bloons TD 5.You can complete 10 special missions in this game, and you can complete over 250 random missions, which is the best way to show the gameplay of this game .That said, Bloons TD 5 has plenty of game modes, you can find one mode tiring and boring, but you can't deny the goodness of the other, am I right, guys?
Description
Bloons TD 5 is a casual game that is very suitable for grinding time. There are no monsters, no blood, and no fatigue in the game. You only need to smash the flying balloons one by one. Although it sounds a bit boring, it still feels very good after playing. Choose your character to participate in various exciting challenges, the combination of shooting and tower defense makes the game more interesting, allowing players to experience different competitive fun. Are you ready to join me?
How To Play
Bloons TD 5 has 45+ maps for players to adventure, it seems that the developer is still very reliable, and the game itself set tower defense, raising as one, the content is still quite rich. The first play, you can see more than twenty kinds of cute monkey tower and a rich variety of balloon squad, when the level of thirty can also be unlocked to upgrade into more and more powerful and beautiful monkey out, inside the task is also quite rich, so that players always have a lot of small goals in front of them, in addition to this work there are three different game modes can choose to play.
Comment
You may like it.