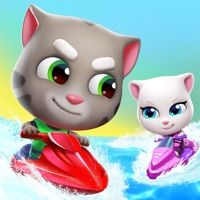 Talking Tom Jetski 2
Platform :
Size : 264.5 M
Date : Jun 11, 2020
Version : 1.4
Devoloper : Outfit7 Limited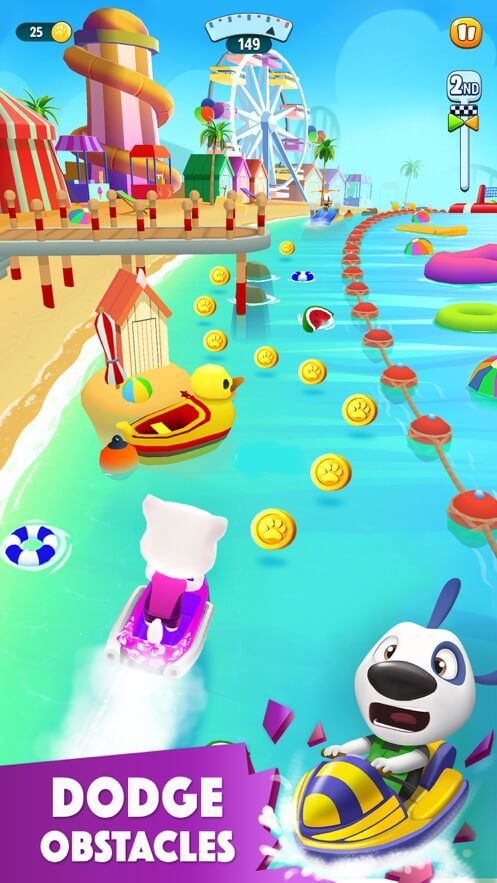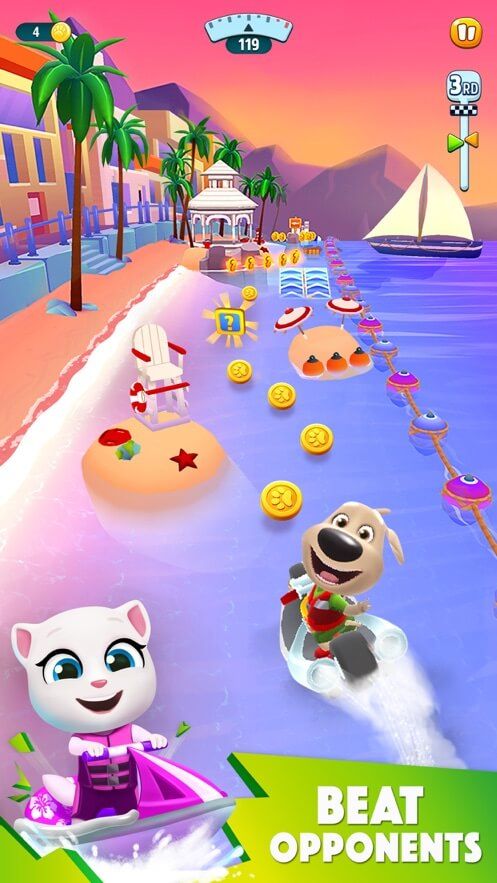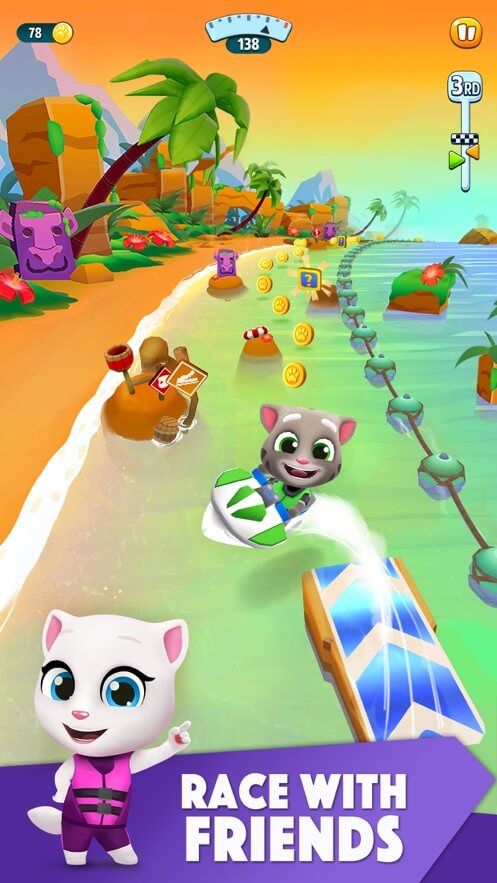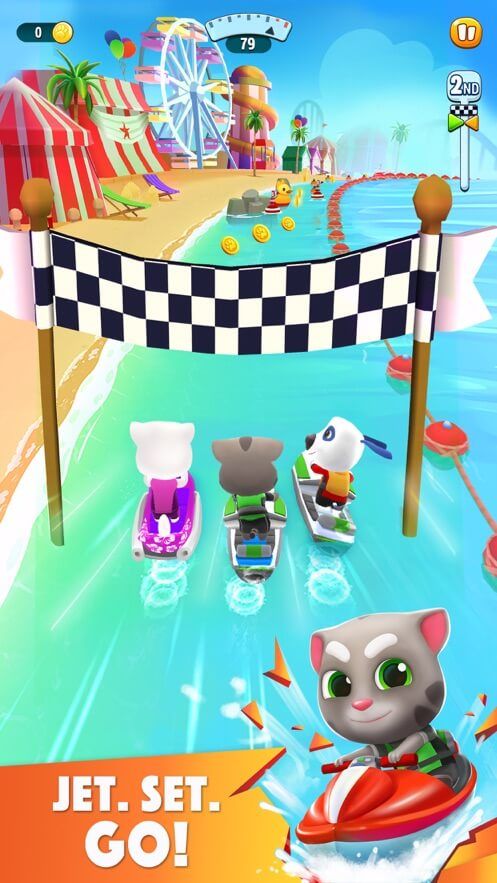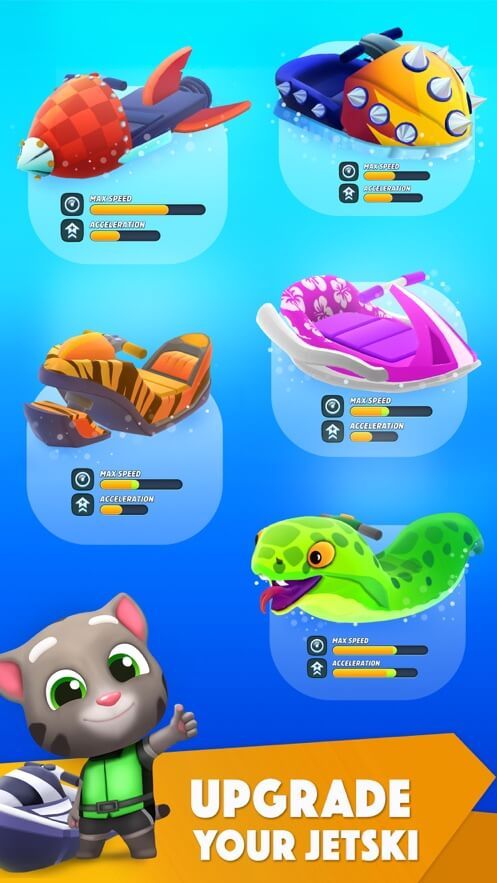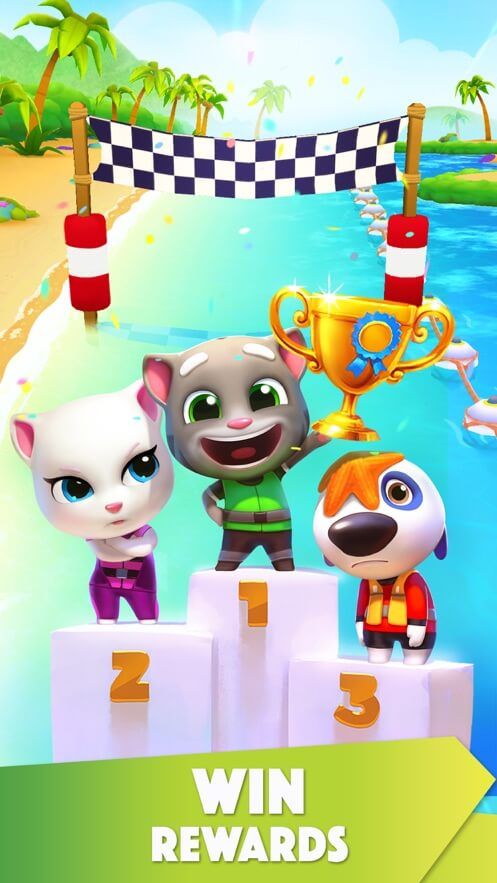 Get The Game
This game's download link redirects to App Store and Google Play, while the purchase link redirects to Amazon. Neither of the links contain malware nor viruses, please feel free to try it out!
Editors' Review
Talking Tom Jetski 2 ©Copyright by FunGameShare, Do not Reproduce.
Talking Tom Jetski 2 is one of the backup answers you want to pick if you want to discuss how many variations a game's famous IP can have. We don't know what Tom and his friends are going through at the hands of the players. However, I do agree that the great thing about this game is that it can change itself and give the player a lot of motivation to keep paying attention to them. The people I'm Talking about here are Talking Tom, and this IP has already won a lot of applause and praise around the world. I'm sure you've played some of these games, but I'm sure they have a parkour genre that you haven't encountered. Talking Tom Jetski 2 is one of those new games. It's just like other parkour games, but of course it's not as simple a parkour game as you might think. I found this game because I was so influenced by Tom, and this cat is really interesting if you really think of him as your friend. It's a superstar first, at least in my mind. It can bring us so much joy with imitation speech and funny body movements. However, I had never seen Talking Tom racing with friends in a motorboat, so, out of curiosity, I downloaded Talking Tom Jetski 2 and started my gaming career on it. How can I put it? After spending about two days in the world of Talking Tom Jetski 2, I thought I'd recommend it to all of you, both veteran players and avid fans.
Let me start with the graphics. Talking Tom Jetski 2's winning weapon is the 3D graphics, which retain their original graphics, so it won't be too jarred for veterans of previous games in the series. It's really worth thinking about, some games are so stupid that they call it "bold innovation" when the graphics style of the previous game was great. This has led some players to give up on the game, who are comfortable with the game's graphical features. Talking Tom Jetski 2 is no such dumb game maker. They can maintain the same style and keep players motivated. Even if the gameplay and modes of the game are different, as long as players see that their favorite IP is still there, it's not a big deal.
Talking Tom Jetski 2's gameplay is simple, and you can pick characters to play against. They are people you know well, so I won't bother to tell you their names. Once you're on Jetski, you need to speed up and keep pumping gold and take first place. You are a great rider, so please trust your technique and beat the others. But if you don't think your Jetski is fast enough, you can upgrade its boosters, using the coins you collect to buy new boosters. This one move could change everything; you could overtake everyone from last place and win the game. However, I'm sure you won't be satisfied with these small rewards, so you'll keep asking for better ones. You can win boxes, they can give you some mystery items, this thing is really amazing. You work hard to win the first place, and then you can get a surprise reward, isn't that a great thing? Anyone can feel something they never felt before in Talking Tom Jetski 2. I'm one of them, and you should be too. Don't you want to be a part of it? I think there are a lot of parkour games, but there are very few with a famous IP. So, you should stop what you are doing and finish the game. It will benefit you a lot.
Description
Talking Tom Jetski 2 is a casual mobile game produced by the game company Outfit7 Limited. As a player you can drive a handsome jetski in an exciting multiplayer jetski race at sea, and drive various handsome airships to compete with other players at sea to see who is the strongest challenger. Come to have a challenge!
How To Play
As a casual parkour mobile game with simple gameplay, players need to control the left and right movement and collect as many props as possible on the way. Next, I will introduce you to the relevant gameplay and tips of the game.
1. The game mainly takes place on the water with a jet skis for parkour.
2. Players need to control the familiar talking Tom Cat to run on the water, avoid obstacles and collect gold coins on the way.
3. There are a variety of jet skis with different styles in the game, and the performance of different jet skis are also different, collect gold coins to exchange for more powerful jet skis.
4. There are multiple characters to choose from in the game, in addition to Tom Cat, there are also pets such as Angela and Hank.
5. There are other different jet skis in the game, with different styles and performances, come and collect them.
Comment
You may like it.